Well, its cold and dark outside, so it must be December. The waning days of 2017 are upon us. Since it is mid-month, it's time to release our latest round of add-ons and give you the latest eMATHinstruction news. But, first, let's do the add-ons.
For Common Core Algebra I Add-Ons this month we bring you two new lessons, both in Unit #7 on polynomials. We added lessons 7 and 8 which look at both multiplying and factoring polynomials with the help of area models. The second lesson specifically looks at how to factor trinomials by essentially using the AC Method of factoring, but in an area array so that students can more easily see how this factoring relates to the previous lesson where we multiply binomials using area. We do plan to eventually make videos for these two lessons as we feel they are a great addition to the curriculum.
As usual, our Common Core Geometry additions this month are in the form of a Unit Review and a Unit Assessment. This month it is Unit #7 – Dilations and Similarity. We've put together a huge packet of problems on this unit that should give your students lot of extra practice on these tricky concepts and how they link together. It does look like, at this rate, that we should have the last Unit Review and Assessment for Geometry in the March add-ons.
Our Common Core Algebra II Add-Ons this month include one video and one new lesson. We made a video for a lesson we released last year in Unit #6 – Using Structure to Factor Expressions. This is a great lesson where students need to recognize the structure of complex algebraic patterns in order to efficiently factor them. We've updated the lesson to add the QR code for easier access to the video. Our new lesson comes from Unit 8 (Radicals and the Quadratic Formula). The lesson is on A Closer Look at Extraneous Roots and should be taught after Lesson 2 on Solving Square Root Equations. This lessons takes an in-depth look at why certain square root equation have extraneous roots introduced and why squaring an expression is an irreversible algebraic manipulation.
Finally, for our Algebra 2 and Trigonometry Add-Ons we have two nice new resources. First, we have a Unit #7 (Trigonometric Functions) mid-unit quiz, Form B. Last year we put out a Form A for this quiz and we decided it made sense to create a make-up for this quiz as well. We also created a large set of practice problems on graphing sine and cosine functions. This is a nice resource that gives students lots of extra practice in terms of graphing sine and cosine functions (without a horizontal shift) and also coming up with the equations based on the graphs.
That's it for add-ons. Besides those, we've been hard at work on other projects. Just this week I went down to Long Island and visited Ward Melville High School in the Three Village School District. They had won our contest earlier this year with the dubious prize being my teaching at their school for the day. It was a blast!!! Hopefully we will eventually have video and pictures to share. I got to teach in a black box theater (definitely a first and maybe a last time for me). I mainly taught a Geometry lesson on using linear functions to model the following (mathematical) doodle:
It was a nice activity because it necessitated the use of both the slope-intercept (red portion) form of the line and the point-slope form of a line (blue portion). We also used the online graphing program, Desmos, to create the doodle. Of course, my tendency to take it way too far lead me to create a Desmos graph that would allow the user to vary the number of lines plotted so that graphs like this could be created:
Here's that Desmos sheet if you want to play around with the doodle yourself:
Mathematical Doodle with Adjustable Line Count
And just because we are on the topic of Desmos, here are some other Desmos graphs I created that are particularly fun to play around with. Feel free to open these and play them as eye-candy for your students as they walk into the door.
Logarithmic Spiral with Rolling Ball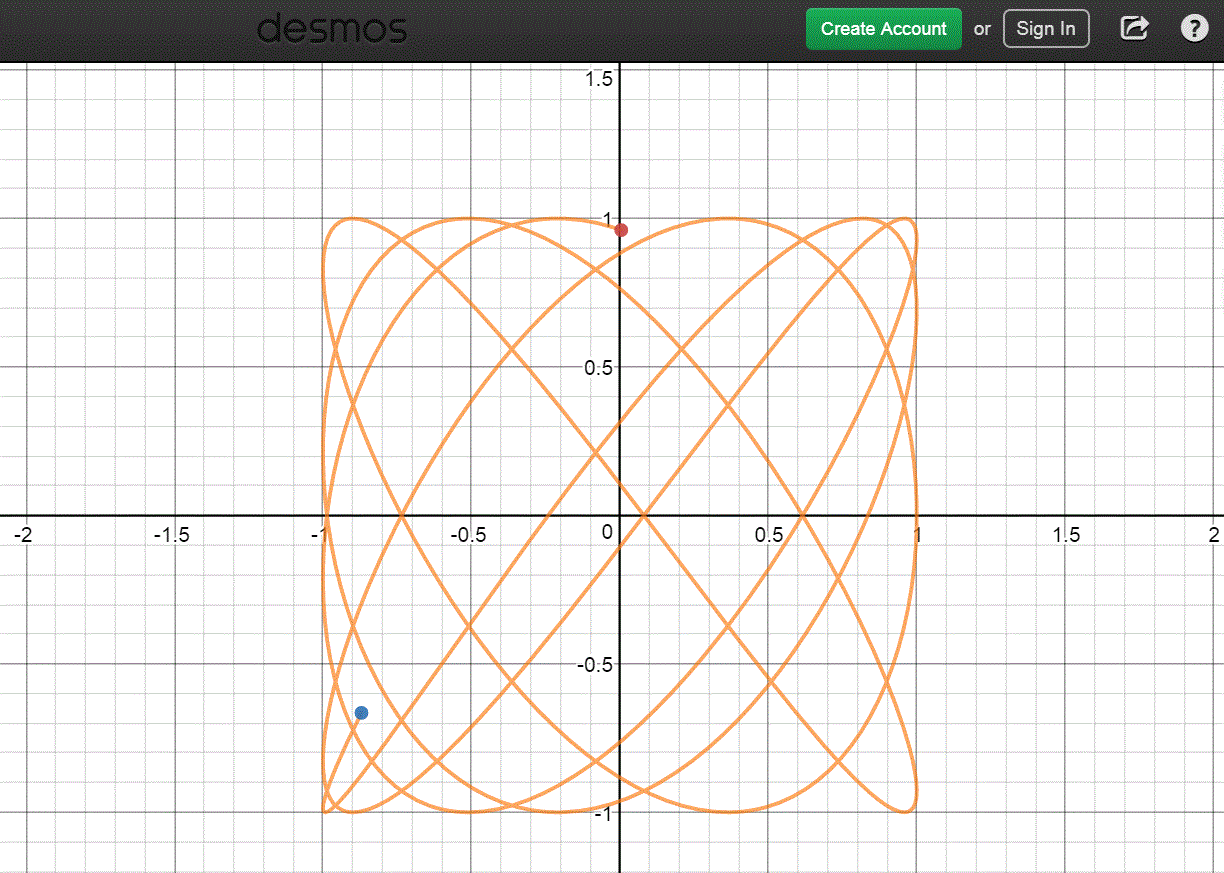 Well, I think that is longer than what anyone wanted to read. It's time for me to get back to creating curriculum and stocking up the wood stove (did I mention it's cold in upstate New York today?). Have a wonderful holiday season everyone. Enjoy the long break coming up!