Starting around Memorial Day, eMATHinstruction is going to change how we distribute our answer keys and what services we provide. This is all part of my evolution into working full time on eMATHinstruction as well as the evolution of our company.
We are going to move to a Web based membership service for our answer keys plus some additional new material. The lessons and homework sets will remain on our site free to all who want to use them.
There are lots of details to the membership services. You can read all about them by opening this document:
eMATHinstruction Pricing 2016-2017
It's a bit confusing, so let me boil it down. On the cost side, we are now going to move to a membership per user. Essentially, for full access to the answers and Word files, school districts will pay a $150.00 annual fee per user (per log-in). This is what we call a Teacher Plus Answer Key Membership. These memberships will allow you to access all of the materials for the course from any internet connected computer. This is what our Unit #13 from Common Core Algebra II will look like once it is up and running (click on the image to see it more clearly).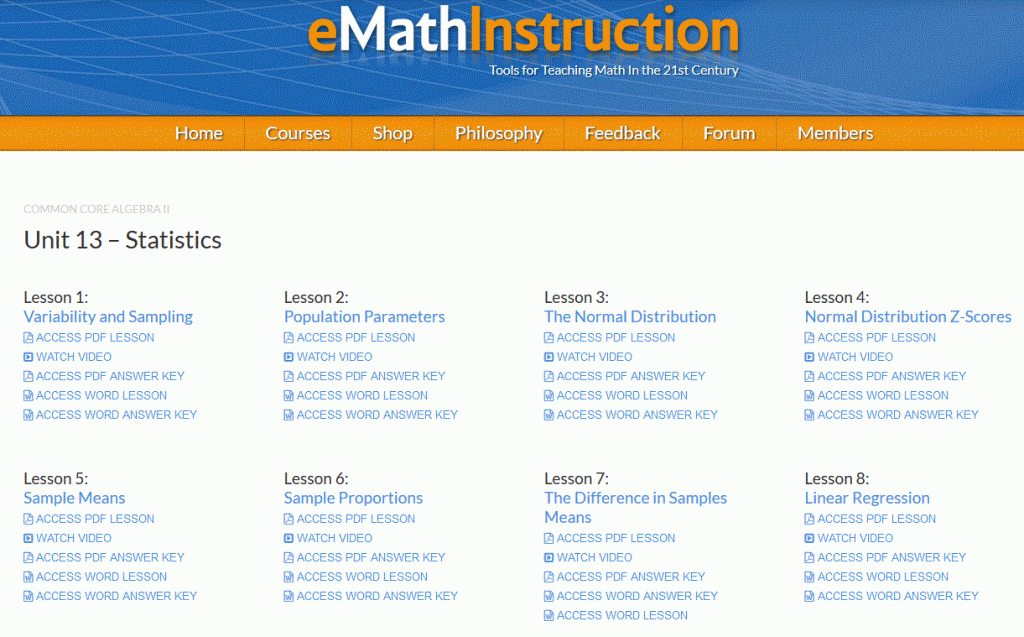 Now, what exactly is the Plus part of this? Mostly it's what you have gotten in the past on the School Answer Key – but now it's much more than that. We will also be offering what we call Add-Ons with the Plus memberships. Each month of the school year, starting in September, I will be creating at least one Add-On per course. These could be huge review sets of problems, activities, Project Based Learning modules, benchmark assessments, exit tickets and other resources. Teachers that have the Plus membership will get these add-ons along with their answer keys.
With the Plus memberships you will have access to  answers and Word files as soon as add-ons are done. In fact, as soon as I think they are good enough to be useful, I'll be able to post them to our servers and you will have access to them. This will make updates to all of the resources instantaneously accessible by anyone with the Plus membership. All from our website. No more hassle with CD's and files at home or at work. Just login and you have access to everything you need:
We're still working out the details on our website and we hope to make it as user friendly as possible. Free memberships are available with the purchase of our workbooks, depending on the number of books ordered. We will not automatically renew memberships after the year has ended. I don't think that would even be possible with school districts.
We have great hopes that this new model will allow us to update our products in real time and give school districts many more tools to use in a timely manner. I'm excited about getting to create curriculum products for Algebra I, Algebra II and Geometry (beginning soon). Feel free to contact us if you have any questions about our new pricing structure or our new services.