How do I access answers to lessons and homework sets?
Answer keys for lessons and homework sets are only available with a Teacher Plus or Tutor membership. Memberships can be purchased on our website via credit card or through a school purchase order.
How do I access unit reviews, Add-Ons and assessments?
Access to additional materials, including unit reviews, add-ons, and assessments, are available with a paid yearly membership. Memberships can be purchased on our website or through a school purchase order. Assessments and their answers are only accessible to verified teachers with a Teacher Plus membership.
What are the different membership types and what do you get access to?
There are two types of memberships: Tutor and Teacher Plus. Tutor memberships provide access to answers in PDF format to the free lessons and homework sets. The Tutor membership also offers access to unit reviews and their answers. A Teacher Plus membership offers further access to Add-Ons which include extra activities, lessons and practice problems as well as editable files of all resources. In addition, the Teacher Plus membership provides access to multiple forms of assessments and answer keys including unit tests, mid unit quizzes and exit tickets. Assessments are ONLY available to verified teachers. View our membership benefits page here to compare the different membership options.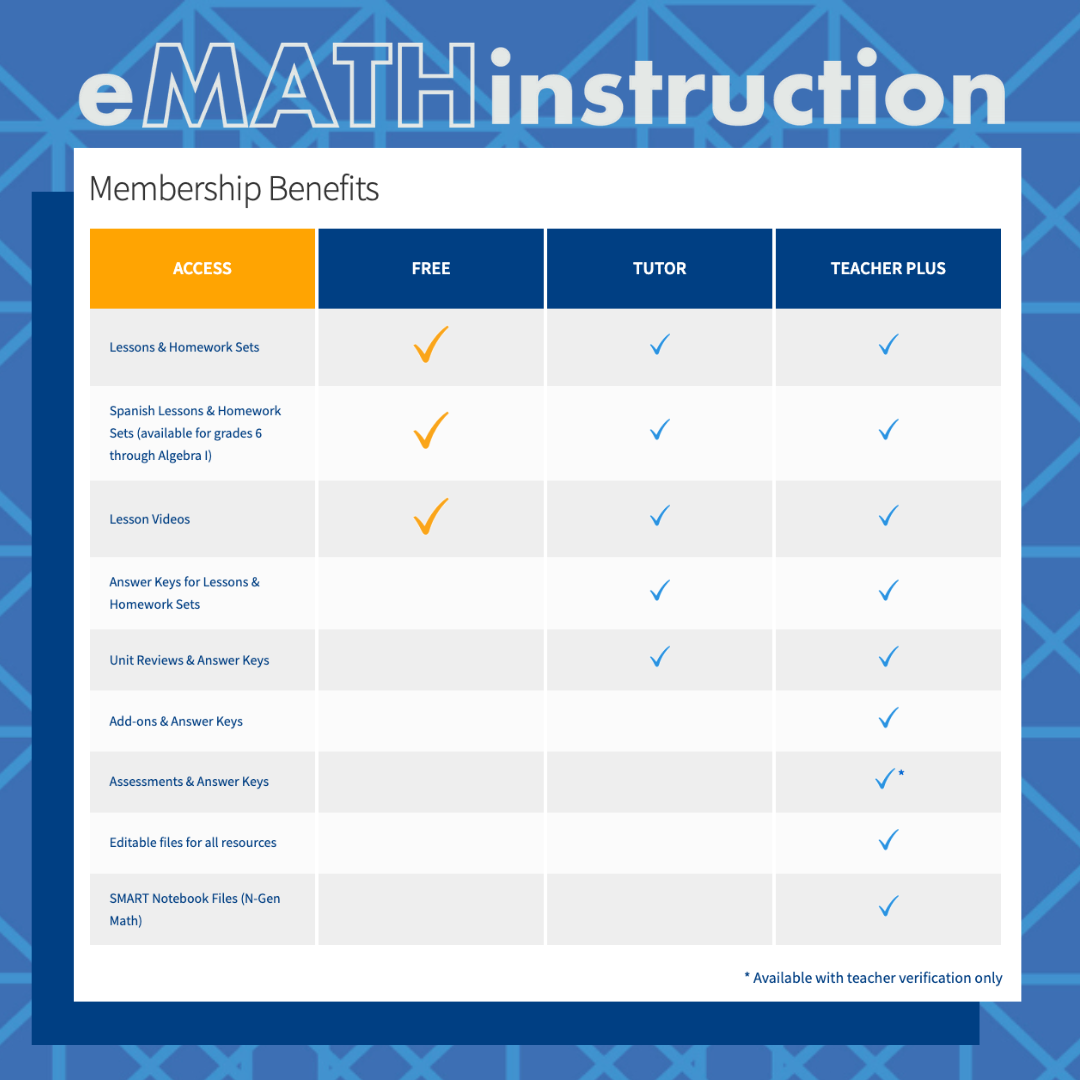 Who is eligible to be verified as a teacher?
Only individuals who can prove that they are math teachers at a school are eligible to be verified. Sufficient proof includes a listing on a faculty page on your school's website or similar identification that you are a math teacher. If your school does not have such a listing, we will require submission of documentation that you are employed as a mathematics teacher. Teacher verification is only needed for those who purchase memberships privately.
 
Tutors, parents, homeschool professionals or other school professionals who are not math teachers are not eligible to be verified.
Why does eMATHinstruction have this verification process?
We take academic integrity very seriously. We understand that many teachers would like to use our materials but their school will not purchase a membership for them, therefore we offer an option for purchasing individual memberships on our website. We want to make our materials easily accessible to all teachers. In order to preserve academic integrity, we only offer access to assessments to verified teachers.
Can I be upgraded from a Tutor membership to a Teacher Plus membership?
Yes, you can upgrade your membership, but remember that unless you are a verified teacher you will not gain access to assessments. If you are a parent or tutor, the Tutor level membership is the best fit.
I am homeschooling my child. Can I use eMATHinstruction?
Yes, you can use eMATH curricula. Our courses and videos can absolutely be used for homeschool learning. The homeschool environment is not our focus though. If you choose to purchase a membership note that we do not offer teacher verification to homeschool parents. If you choose to use our material to homeschool your child and are looking to create assessments using our material, we recommend you utilize the unit reviews as a question bank to create assessments. Unit reviews are available with the Tutor membership, which is the membership we recommend for homeschool parents.