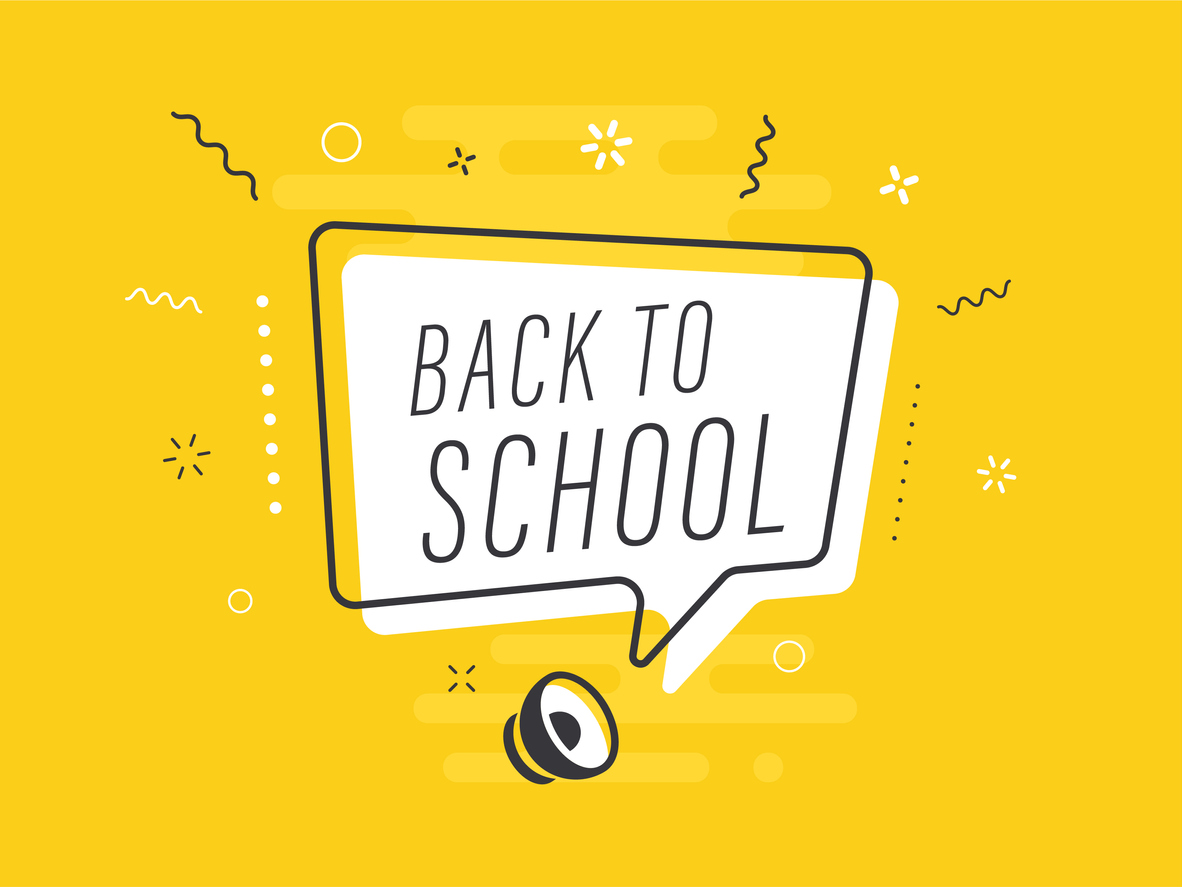 Ah, 2020! As schools "re-open" around New York and the country, the learning environment has never been more strange or more stressful. We've been busy here at eMATHinstruction filling orders and creating resources to help with whatever teachers and students face this coming year. It's our first year with middle school courses, so we have lots of new resources on that front as well as all new add-ons for our high school courses.
Before we get into the new middle school and high school materials, we first should mention the new way we are organizing resources for each course. We have now moved all resources for a given unit of a course in that unit's page. We used to have only the lessons and homework sets for a given unit located there, with reviews, assessments, and add-ons located in other pages. We now have moved all of those into the individual unit pages. Generally, we have the standard lessons/homework sets first, followed by the unit review, unit assessments, quizzes, and additional lessons or activities that have been added-on. We have color coded these so that it is easy to quickly identify free lessons versus paid items, such as reviews, assessments, and add-ons. Here is an example from Unit 2 in Common Core Geometry: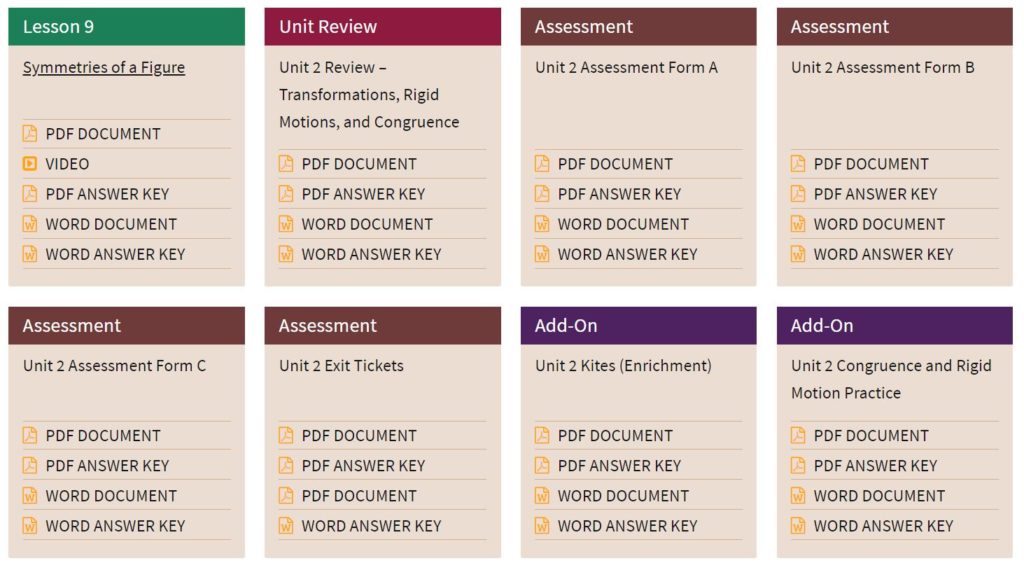 Now that our resources are easier than ever to find, let's discuss the latest additions to all of our courses.
In Common Core Algebra I this year we are adding Spanish versions of our first three forms of the unit assessments (Forms A, B, and C). We worked with three fantastic math teachers who were also bilingual in Spanish to create these translations for us. Each exam was translated by one teacher and then reviewed by another. For this month, we are releasing a number of these assessments so that teachers can begin to evaluate how they can use them effectively. We have included Units 1, 2, and 3, for a total of nine assessments. You will find these as an option under the unit assessments. Here is a screenshot of Unit #1 from Algebra I:
Notice that the PDF DOCUMENT – SPANISH is located immediately below the PDF ANSWER KEY for each exam. Please also note that we did not translate the answer keys into Spanish on the assumption that the person grading the student exams will be fluent in Spanish.
In Common Core Geometry this month we bring you two resources for Unit 1 (Essential Geometric Tools and Concepts). First, we have a mid-unit quiz with both a Form A and a Form B. Although this would be a very early quiz, we believe it is more important than ever to make sure kids are starting off with a solid understanding of the material. We also bring you the Form D assessment for Unit 1.
For Common Core Algebra II we bring you a mid-unit quiz for Unit 1 (Algebraic Essentials Review). We are committed this year to creating mid-unit quizzes in each of our high school courses for each unit. We know that many of these have already been created, but we want to make sure we have consistency in each unit with both a Form A and Form B mid-unit quiz. We also bring you an add-on lesson for Unit 2 (Functions) on Exploring Functions Using the Graphing Calculator. In this add-on, we give students problems that force them to experiment with their graphing window as well as tools like the maximum and zero command to find important features of real-world functions. We think this is an excellent resource for encouraging kids to use their calculators to explore the behavior of unfamiliar functions.
In Algebra 2 with Trigonometry, this month we offer up the Form D Unit Assessment for Unit 1 (Introduction to Functions) and Unit 2 (Linear Relations and Functions). Our general goal is to have four forms of each unit assessment for each course.
Our middle school courses are brand new this year, which means that we have a much smaller library of resources for them at this point. Right now, teachers will find in each unit the lessons for the unit and the unit review. As add-ons this year, we will be publishing the first round of unit assessments for each course. For this month, we have published the unit assessments for Units 1, 2, and 3 for each course. You will find the assessments as the last resource (for now) of each unit. For example, Unit 3 in N-Gen Math 6 looks as follows:
We will continue to publish the unit assessments each month as the add-ons for the middle school courses. Next year we plan to add Form B assessments, as well as quizzes and exit tickets.
I don't think I'm going out on a limb to say that the fall of 2020 will be even more strange and stressful for teachers and students than even the spring of 2020. And that was no walk in the park. Teachers will need to be ready to move from fully in school to hybrid models to fully remote learning at a moment's notice. At eMATHinstruction, we hope to be able to help with whatever transitions you have to make as a teacher this year. For now, take care of yourselves, stay healthy, and stay sane.